Comparing the '65 Mustang fastbacks from Aurora, Model Motoring and Johnny Lightning

Probably one of the most sought after Aurora cars (depending of it's color combo),
so you can be fooled by greedy sellers when buying an original one.
Improve your knowledge on what some are trying to sell to you and pay the correct price for it...
An Aurora is far better than a Johnny Lightning and a Model Motoring, even if near is not a genuine Aurora 'Stang.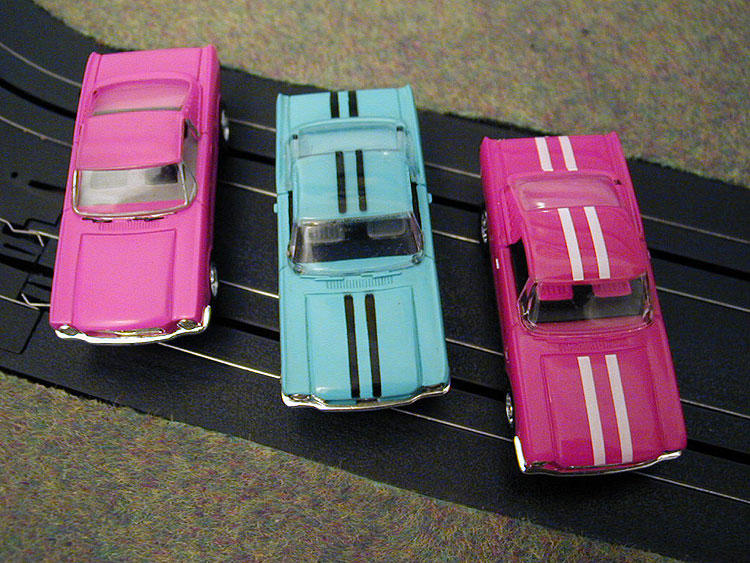 From left to right: the JohnnyLightning, followed by the Aurora and finally the Model Motoring
Remember, for all following pictures, the original Aurora is the blue one, Model Motoring the red one and Johnny Lightning the pink one
All three car used for this comparison are mounted on original Thunderjet chassis and only the Aurora has it's original wheels,
the two others wear aftermarket ones. The Johnny Lighning has also some painted accent : not original, but done by myself.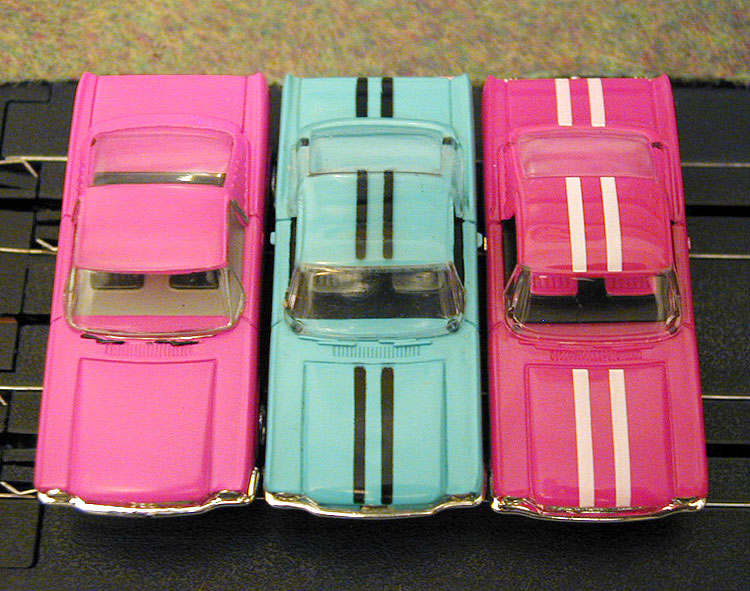 One evident thing on this picture is that the pink one has a longer rear window and consequently a smaller top.
You'll probably notice too that the original (the blue one, you remember...) has it's door handles bigger than the two others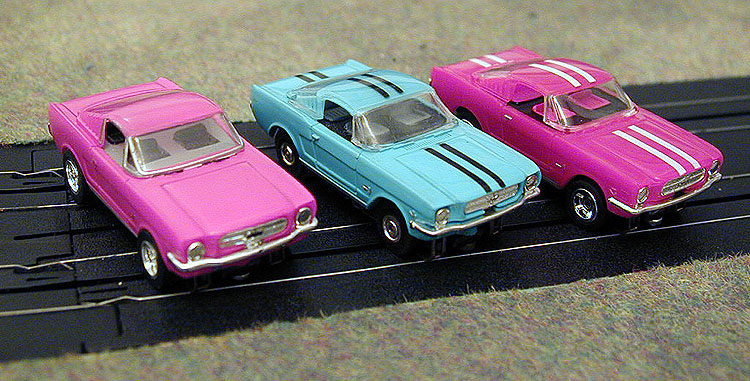 The front grille and headlights are less detailled on the pink one, which (I hope...) you'll better see on the next couple of pictures.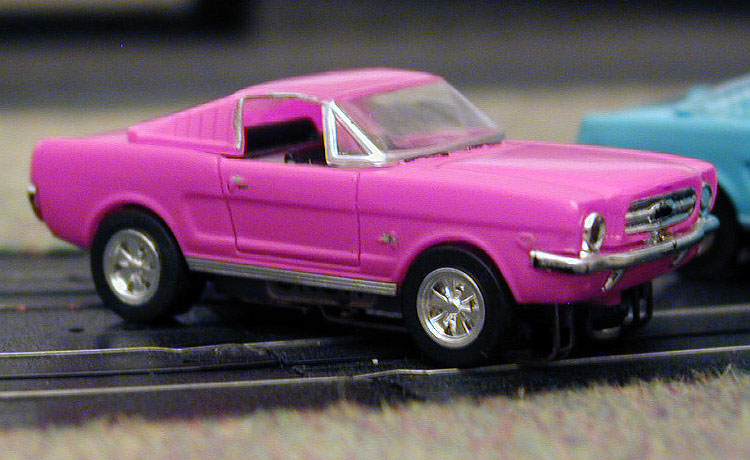 On the pink one the grille is simply flat chrome at all...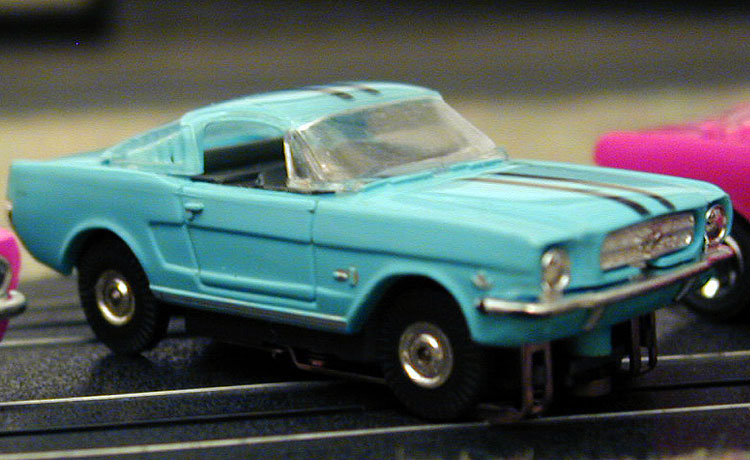 At the opposite, the Aurora has the best finely detailled front grille of all three. And it's also better recessed in the body.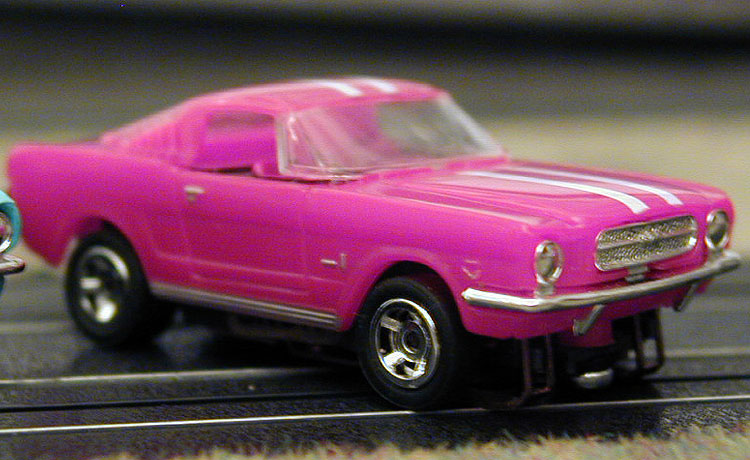 The red one has a detailled front grille too, but slightly rougher than the original.
It's body lines are also slightly less carved than on the two other cars.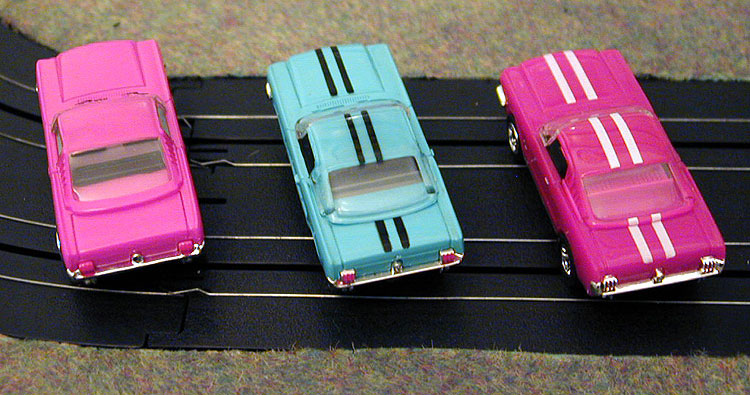 From a rear view, you can see that all taillights are not the same on each cars, which you'll better see on the next picture




As expected, the pink one is the less detailled which you clearly see also by it's gas cap.
Pay attention too that the original is the only one to have it's rear trunk key assembly molded.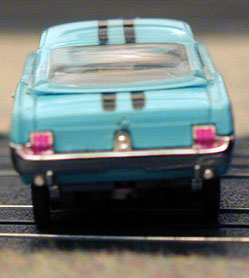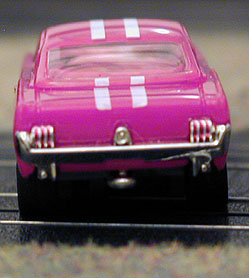 And on these three close-up from rear, you'll notice that the ModelMotoring (red one) rear lights
are more precisely painted than on the original Aurora and that it's gas cap is also slightly different.


There are also some other differences which your eyes have probably paid attention too,
and these pictures are provided for this simple purpose.